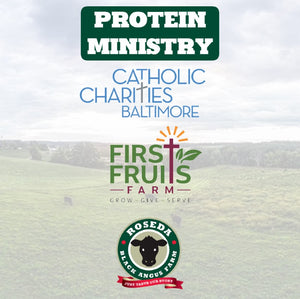 Roseda in the Community
Here at Roseda we participate in local programs that provide the food insecure members of our community with nutritious products. We are proud to serve the community through our involvement with Catholic Charities and First Fruits Farm, a local non-profit organization that provides fresh, nutritious food for the hungry through volunteer service and community partnerships. We encourage you to take a minute and read the below from Andy Wayne, Director of Communications for Catholic Charities.
PROTEIN MINISTRY PARTNERSHIP INCREASES ABILITY TO FEED THE HUNGRY IN BALTIMORE AND BEYOND

October 2, 2023- Launched in recent weeks, a new partnership is providing healthy, high quality, locally raised beef for thousands of meals to area nonprofits, significantly addressing a current and growing demand to provide essential protein to individuals and families in need across Baltimore and Maryland.

The effort, aptly named the Protein Ministry, is the result of a new strategic partnership between Catholic Charities of Baltimore, Roseda Farm and First Fruits Farm (FFF). For years, First Fruits Farm has been committed to a mission of "serving others through food, faith, and fellowship in the fields". The farm relies on volunteer farm work to help harvest healthy, local food for people in need, and they operate in the name of Jesus Christ. Roseda Farm has been providing beef provisions to several local, charitable entities and initiatives for years, and began working with FFF a few years ago during the pandemic to assist them in feeding beef protein to the underserved in the area. Roseda Farm's mission has always been to assist those in need — especially the hungry—and provide a true local protein that is unmatched in quality to those who need it the most. Given the rise of food insecurities and a desire to reach and impact more people, both Roseda Farm & FFF wanted to provide a more significant impact locally and in Maryland by partnering with Catholic Charities to coordinate these efforts.

Catholic Charities' role is to coordinate the effective distribution of this large supply of beef through its programs in the community, as well as those of other area nonprofits. For over 100 years, Catholic Charities has been improving the lives of Marylanders in need, and addressing hunger has long been a focus. In 2022, clients at Catholic Charities programs such as Our Daily Bread, Sarah's House and My Brother's Keeper were served more then 500,000 meals. The Protein Ministry partnership will enable this crucial service to continue, yet at a reduced cost and while providing high, quality food from a reliable and elevated source. The goal of the Protein Ministry is to eventually orchestrate deliveries to at least one location in every county of Maryland. Going forward, every third Thursday of each month the Protein Ministry will distribute to individuals and families nutritious Roseda and MVP ground beef and burgers procured from Roseda Farm and other neighboring local area farms that can be found in the best restaurants, grocers, colleges and food service in our local market. Through funding from the community, partners will continue to expand this mission and vision of reaching those with food insecurities across Maryland.

"The Protein Ministry will be an extremely impactful effort, which will simultaneously help feed thousands while easing the challenge of providing these meals every day," said Ashley Valis, Chief Operating Officer at Catholic Charities. "We are very pleased to be partnering with Roseda Farms and First Fruit Farms to make this happen for Baltimore's programs and for people who are hungry and in need of our help."

"We are very excited to work with Catholic Charities and First Fruits Farm to provide our ground beef and burgers to those that are hungry and in need, through the Protein Ministry," noted Edward A. Burchell Jr., Partner at Old Line Custom Meat Company/Roseda Farm. "We will continue to build our relationship together and make a difference in our community. Hunger is a year-round need, but especially difficult in the upcoming fall and winter months where a hot meal with protein can help warm the soul and provide some joy and hope."


ABOUT CATHOLIC CHARITIES OF BALTIMORE
Catholic Charities of Baltimore celebrates 100 years of improving the lives of Marylanders in need. Established in 1923, inspiration came from the direction of Bishop Carroll in 1792 that one-third of parish revenue would be provided for relief of the poor. Today, 100 years stronger, the organization is Maryland's largest private provider of human services, with more than 80 programs in 200 locations. Catholic Charities focuses on the key causes of Achieving Independence, Welcoming New Neighbors, Empowering Careers, Supporting Children & Families, Healing Trauma & Addiction and Aging with Dignity. Inspired by the gospel mandates to love, serve, and teach, Catholic Charities is committed to a Maryland where each person has the opportunity to reach his or her God-given potential. www.cc-md.org


ABOUT ROSEDA FARM
Roseda Farm, located in Monkton, Maryland and founded in 1996, is Maryland's largest provider of local, natural, dry-aged black angus beef, in partnership with its harvest and processing plants at Old Line Custom Meat Company in Baltimore. Our vision and mission focus on providing the best premium beef with unparalleled customer service to customers and our community. Visit us at www.roseda.com.


ABOUT FIRST FRUITS FARM
Located on 281 acres in Northern Baltimore County, First Fruits Farm is a nonprofit, Christian ministry dedicated to providing fresh, nutritious food for the hungry through volunteer service and community partnerships. 100% of everything the Farm grows is donated in Jesus' name, and each season at least 2 million pounds of our farm-fresh food is harvested and shared with a network of more than 130 distribution partners comprised of large and small food banks, shelters, pantries, schools, churches, and other organizations throughout Maryland and the Mid-Atlantic region. For more information about the Farm, please visit our website at www.firstfruitsfarm.org.
One of our core values at Roseda is family. We hold that dear to our hearts, and we believe that our community is our family. We strive to serve our community as much as we possibly can – from our farm to your family.
---